Weekly Announcements
February 14, 2018

I tell you, love your enemies. Help and give without expecting a return. You'll never-I promise-regret it. Live out this God-created identity the way our Father lives toward us, generously and graciously, even when we're at our worst. Our Father is kind; you be kind.
Luke 6:35-36 MSG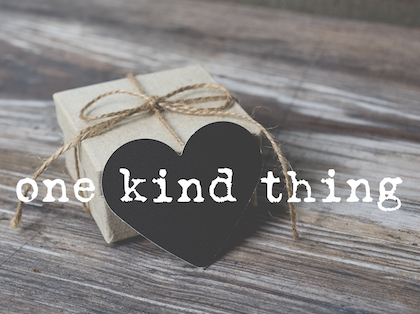 Hopefully you were inspired by the One Kind Thing story that Rob shared on Sunday. Before we kicked off our One Kind Thing project, I took it on a trial run to see if I could get some ideas and inspiration and to see what a difference it might make. As with most outreach opportunities (big or small), I found this to be just as beneficial to me as to anyone I may have helped.

My first kind thing was pretty simple. I saw a woman at Aldi who struggled to push her cart with her groceries and her infant daughter through the snowy parking lot. If you've ever been to Aldi, you know that you have to return your cart in order to get your quarter back. Once the woman unloaded her cart, I gave her my quarter and offered to return her cart back to the entrance for her. She was appreciative and told me she hadn't looked forward to pushing her little girl all the way back through the snow and slush. The smile on her face literally made my day and it took less than two minutes to help her.

My second kind thing was a little less planned. One of the items on the list is "let someone do something kind for you and thank them." When my husband Marc deployed a lot when he was in active duty Air Force, a very wise person once told me that I should really let people help me more because they wanted to and, in a way, it was a blessing to them to be allowed to show kindness to me when I needed it. So, I inadvertently took this theory on the road last week when the kids and I went to buy sand at Menards. We only needed a little bit of sand so I didn't take a cart. Turns out, they don't sell little bags of sand at Menards which resulted in me trying to carry 70 lbs. of sand through the store. One gentleman asked if I needed help and I lied and said "no." But when a second gentleman offered to take the sand to my car later, I let him and thanked him profusely.

I tell this second story because I almost think it's more important than the first to explain how I felt when someone did this one kind thing for me. It made me appreciate that he cared enough about me to help me. It showed that he saw me in despair (you couldn't have missed us – we made quite a scene) and wanted to find a way to ease my troubles. It made me a little less grumpy at my kids who I was ready to leave at Menards. Without sounding overly dramatic, it literally changed my focus of the world we live in for at least a few minutes that day. Meaning, I was grateful for his kindness, regardless of how small it might have seemed, because it made me feel more connected and hopeful. And, I'm pretty sure that's how Jesus wants us to feel, and to make others feel, every single day. I don't know about you, but I'm incredibly pumped to kick off this One Kind Thing project. If my trial run was any indication, this is going to be an amazing 40 days. I can't wait to hear your stories.

God Bless,
Kerry





Current Message Series: Relation-slips
Our greatest regrets and our most embarrassing moments can come from our relation-slips. A relation-slip is when you say something you shouldn't have said or you don't say something that needed to be said. Either way, you undermine your relationships and injure yourself. The end result is a damaged or possibly broken relationship. Jesus was the master of relationships. What did he do and how did he do it in his ministry on Earth? How can we follow His lead in preventing and overcoming our relation-slips? Join us for this meaningful and applicable teaching series.

One Kind Thing
As a church community, we're always looking for ways to share the love of Jesus. There's no better time to model the love God has for each of us than in the days leading up to Easter. We're encouraging our Restoration family and friends to think of one kind thing you can do for 40 days starting on Ash Wednesday, February 14. See if you can continue the streak by writing down the kind thing you do every day. Need ideas? Go to restorationcov.org/onekindthing. Thanks for helping us spread kindness throughout our community starting with One Kind Thing.

Students Bowling Night – February 23
Students in grades 6-12 are having a bowling night at Apple Place Bowl (Bogart's Event Center) on Friday, February 23 from 6:30-8:30pm. Address is 14917 Garrett Ave, Apple Valley. Cost is $10 for 2 hours of bowling, shoes included. Payments go directly to Apple Place Bowl at the time of the event. Bring extra money for food or drinks. Invite your friends! Please RSVP to DerekWassell@restorationcov.org so we have enough lanes.

*NEW*
Child Dedications
On Sunday, March 4, we will celebrate child dedications as part of our worship service. If you are interested in having a child dedicated or baptized, or if you yourself are ready to be baptized as an expression of how Jesus has changed your life, we'd love to hear from you so please talk to Pastor Rob or contact Chrystine in the church office.

Feed My Starving Children – March 21
Looking for an amazing opportunity to serve kids in need with your friends and family? Join us for Feed My Starving Children (FMSC) to pack meals for hungry kids worldwide on Wednesday, March 21 from 6-7:30pm. We will meet at 5:45pm at 990 Lone Oak Road, Suite 136, Eagan. There is no cost to participate, but FMSC welcomes donations. Invite your friends and family for this awesome international outreach! Everyone age 5 and up is welcome, but space is limited. Please RSVP first name, last name, and if you are an adult to DerekWassell@restorationcov.org.

Small Groups
Are you looking for a way to get to know others and grow in your faith? Small Groups help us grow in our love for God and others within an authentic community of people. Though each group's format is different, all groups have a time of discussion and prayer. Contact groups@restorationcov.org to learn more.

Families of Students Small Group
We're very excited to announce a new small group for families of Middle and High School students. Families will meet from 12pm-2pm on the 2nd Sunday of each month to share a meal together in different host homes. If you're looking for a great, easy way to connect with other parents, we hope you'll check out this group led by Janice & Pete Svaren. For more information please contact KaraRasmussen@restorationcov.org.

Families with Children Small Group
5:30pm Sundays, bi-weekly
Discussion of the sermon, led by Matt & Mallory Allinder at host homes. Children Welcome.

Sunday Women's Small Group
6:30pm Sundays, bi-weekly
Discussion of the sermon, led by Kara Rasmussen at host homes.

Tuesday Women's Small Group
7pm Tuesdays, weekly
Discussion of Hearing God: How to Recognize His Voice, led by Mary Beshara at the Besharas' home in Apple Valley.

All Ages Small Group
6:30pm Wednesdays, bi-weekly
Discussion of the sermon, led by Garrett & Amy Zaffke at the Zaffkes' home in Apple Valley. Children welcome.

Men's Small Group
7am Saturdays, weekly
Study of the book of 1 Peter, led by Chad White at the Ministry Center.

Pray or Receive Prayer
Are you gifted at prayer or do you have a prayer request that you'd like to share with our prayer team? We believe in the power of prayer and know that God is listening. We would love to pray for you. If you're interested in joining the prayer team or have any prayer requests, send them to our prayer team at prayer@restorationcov.org





RESTORATION KIDS

Contact: ChrystineVilhauer@restorationcov.org

What We're Learning in February





Preschool:

That Jesus loves everyone is the sweetest news we will ever share with our preschoolers. So our theme this month is "Sweet Shop"! We will hear the stories of the woman at the well, Zacchaeus, the unloved woman, and Peter. Jesus showed love to all of these people, and it's the same kind of love He has for you and me and every preschooler. We want our preschoolers to grow up knowing that Jesus loves us all, no matter what, and He will never stop loving us. Jesus loves us even when we do something wrong. We can be unkind. We can not share our things. We can make bad choices. Even when we do all these things, Jesus still loves us.

So get your sweet tooth—and your heart—ready for a super sweet month filled with the good news that JESUS LOVES EVERYONE! It's going to be one huge sugar overload, not because of candy but because Jesus' love is just that big and sweet!!





Elementary:

God was kind to us even when we didn't deserve it. Even when we were still sinners, Jesus died for us. Because of God's great love for us, we can be kind to everyone. Jesus personified kindness in the way He lived and interacted with the people He met. But, as we read the Gospels, we find that Jesus didn't just model kindness. He commanded it. By treating others the way we want to be treated, we live out the way Jesus taught us to live.

We will ask these questions: What does kindness look like? When is it hard to be kind? Have you ever experienced unexpected kindness? How can you be kind to people you don't get along with?





RESTORATION STUDENTS

Contact: DerekWassell@restorationcov.org

Restoration Students Wednesday Nights
Upcoming Dates: Feb 21, 28 | Mar 7, 14 | Apr 4, 11, 18, 25 | May 2, 9
Students in grades 6-12 are encouraged to join us at the Ministry Center (7707 147th St W, Apple Valley) from 6:30-8pm on Wednesday nights for a time of teaching, activities, and groups that focus on encountering Jesus and building meaningful relationships. If you have a Bible, bring it. Invite a friend!

Middle School Group
Upcoming Dates: Feb 18 | Mar 4, 18 | Apr 15 | May 6
Students in grades 6-8 begin Sunday mornings in the worship service. On the 1st and 3rd Sundays of the month, they are dismissed to the café; for discussion and activities that complement the Sunday morning message.

Restoration Students Facebook Page
Did you know we have a Restoration Students Facebook page? Check it out and "Like" the page!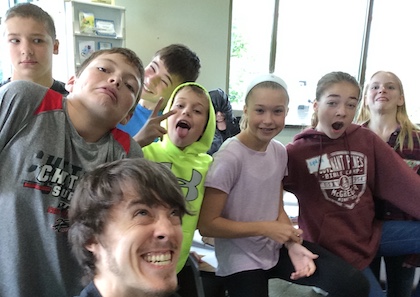 View past News & Notes by clicking HERE.