Weekly Announcements
November 15, 2017

What, then, shall we say in response to these things? If God is for us, who can be against us? He who did not spare his own Son, but gave him up for us all—how will he not also, along with him, graciously give us all things?
Romans 8:31-31 NIV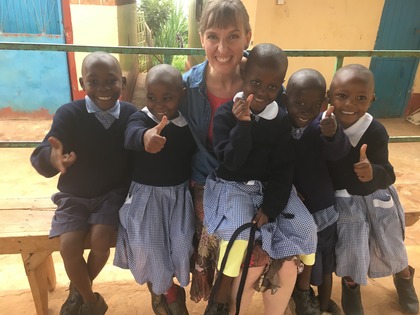 Greetings,

When I'm in the midst of a situation that causes me to fear, I try to remember all the times God has faithfully taken care of me in the past. When I remember how BIG God is, and how much He loves me, it is much easier to step out and do things that scare me. It's not about how weak I am; it's about how strong God is.

A couple years ago I read the book "Crazy Love" by Francis Chan. A question he posed was very convicting for me: "What are you doing in your life RIGHT NOW that requires faith?" I have to be honest, I think my answer was something like, "Not very much."

The cry of my heart is to be used by God. And yet, often I shy away from possibilities because of my own fears or self-doubt. Since reading that book, I am trying to always say "yes" to scary opportunities and exercise my faith. If everything in my life is safe and well within my own ability to control, where is the faith in that? When we have to take a leap of faith into something that feels out of our control, we learn that God is trustworthy, and we are able to give Him glory for the great things He has done.

Restoration Church, let's continue to encourage each other to take bold steps of faith and trust God with the results. I'm making the decision to make a lifestyle out of jumping into the great unknown and watching God do something with my offering. Who wants to go sky diving with me? Ha!

I would love it if you all would join me in celebrating all God did through my three months in Kenya this summer. Come celebrate with me and hear some stories: this Friday, November 17th from 7-8pm at the ministry center. Hope to see you there!

Blessings,
Leanne Esch





*THIS FRIDAY*
Join Leanne Esch to celebrate and hear stories about all God did during her three months in Kenya this summer. She'll have a short program and dessert this Friday, November 17th from 7-8pm at the Ministry Center. Please RSVP to Leanne.Prayer@gmail.com so she can plan accordingly. See you there!

Calling All Kids
Do you have friends who would like to have their kids involved in church but have yet to check us out? We have a great way to reach your unchurched family and friends who are looking for fun ways to get their kids to church. Invite them to participate in our Children's Program on Sunday, December 17. The kids will start practicing for the program during our regular worship time starting November 12. Parents hear a great message and kids learn more about the Christmas story. We're always looking for adult volunteers to help with our program so if you're willing to share your gifts, please contact ChrystineVilhauer@restorationcov.org

Armful of Love
Restoration will partner with 360 Communities' Armful of Love for our Christmas outreach opportunity again this year. Armful of Love matches hundreds of local families in need with sponsors to provide gifts in the Christmas season. This year Restoration signed up to support 12 people in five families, which corresponds to about 60 gifts. We will have ornaments that list desired gift items from these families for Restoration families to pick up on Sunday, November 19 and November 26. Gifts may be brought unwrapped and labeled with the ornament to the Ministry Center before 10am on Saturday, December 2. We hope you'll invite a friend and join us to wrap gifts and create cards at the Ministry Center from 10am-noon Saturday, December 2. Contact Michele Jacobson at outreach@restorationcov.org

Students Game Day
Students grades 6-12 are invited to come to the Ministry Center on Saturday, December 2 from 12:30-3pm for games and pizza following the Armful of Love wrapping party event happening from 10am-12pm. Come to both events if you can! Pizza and drinks will be provided during the game time. Cost is $5/person. Students may bring a snack to share and are encouraged to bring board, card or video games to play with others. Make sure you have completed a 2017-2018 Students Participation Form to attend this event. RSVP to DerekWassell@restorationcov.org so we can plan on the perfect amount of pizza.

Join a Small Group
Are you looking for a way to get to know others and grow in your faith? Restoration Small Groups help us grow in our love for God and others within an authentic community of people. Though each group's format is different, all groups have a time of discussion and prayer. If you're interested in joining one of the small groups below or if you'd like to join a group but none of these work for you, please contact Kara at groups@restorationcov.org

Pray or Receive Prayer
Are you gifted at prayer or do you have a prayer request that you'd like to share with our prayer team? We believe in the power of prayer and know that God is listening. We would love to pray for you. If you're interested in joining the prayer team or have any prayer requests, send them to our prayer team at prayer@restorationcov.org





RESTORATION KIDS

Contact: ChrystineVilhauer@restorationcov.org

What We're Learning in November





Preschool

This month, we want to cook up a big Recipe For Thanks with our preschoolers! We chose Recipe For Thanks as our theme because we want our preschoolers to learn how to have a thankful heart. We will start the month learning about the Ten Commandments. Commandments are some of those ingredients that may not sound yummy but they are oh so good for you. During week two, we'll learn all about the Lord's Prayer. Our preschoolers will hear how Jesus taught them how to pray and practice praying the way He modeled. Preschoolers will learn that they can pray anytime, anywhere, and about anything. That's something to be thankful about!

We all need people to help us. We can be thankful for our family and friends and all the people in our community. Think about how many people help you each and every day. At the end of the month, our preschoolers will hear the story of Naomi, Ruth and Boaz, and that story is full of people who help! Our preschool friends will also identify who the people are that help them each and every day.





Elementary

Have you ever paused to think about everything God has done for you? He created a planet that's perfectly suited for otters and ostriches and you. Then, He sent His Son, Jesus, to that planet to die and be raised to life so He could have a forever relationship with you. Through the month, we'll help kids refocus on all that God has done for them. Because when you know what God has done for you, YOU CAN BE THANKFUL—ALWAYS.

Gratitude is a response to the character of God.

Bottom Line: Always be grateful. Kids will learn that no matter what is happening in their lives, they can always find a way to say thank you.





RESTORATION STUDENTS

Contact: DerekWassell@restorationcov.org

Restoration Students Wednesday Nights
Upcoming Dates: Nov 29 | Dec 6, 13
Students in grades 6-12 are encouraged to join us at the Ministry Center (7707 147th St W, Apple Valley) from 6:30-8pm on Wednesday nights for a time of teaching, activities, and groups that focus on encountering Jesus and building meaningful relationships. If you have a Bible, bring it. Invite a friend!

Middle School Group
Upcoming Dates: Nov 19 | Dec 3
Students in grades 6-8 begin Sunday mornings in the worship service. On the 1st and 3rd Sundays of the month, they are dismissed to the café for discussion and activities that complement the Sunday morning message.

Restoration Students Facebook Page
Did you know we have a Restoration Students Facebook page? Check it out and "Like" the page!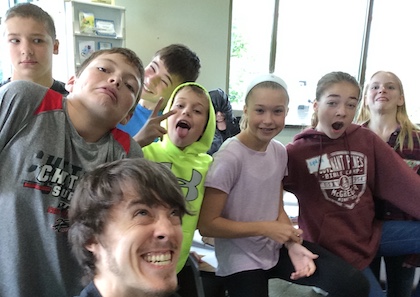 View past News & Notes by clicking HERE.