Weekly Announcements – 05.2.12 (Archive)

May 2, 2012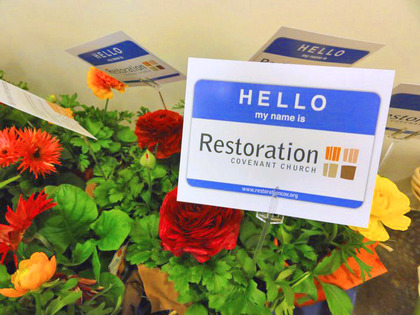 Centerpiece from Grand Opening on April 10, 2011
Celebrating and Advancing the Kingdom
We had our first official family meeting last Sunday. We had good food, some laughs and an encouraging presentation about where we've been and where we are going. Click here to read a full summary. Highlights:
We asked the question, "Would anyone miss Restoration Covenant Church if we weren't around?" Pastor Rob shared 20 examples of changed lives and benefits to our community because of our involvement.
Rob reviewed our vision, mission and values and challenged the church to make sure our dollars and our efforts continue to go towards the mission God has given us.
Chad White expressed the need for us to have a hub for our weekly ministry and outreach efforts and explained that our new ministry center is an answer to prayers.
Jessica Sanborn proposed that we seek a partnership with the Eagan & Lakeville Resource Centers in order to be a sponsor site for their new mobile pantry launching in September.
Staffing Worship Ministry: The current leaders are suggesting, and the PAT agrees, that it is time to look for a Creative Arts Director to work 20-25 hours per week. This paid position will allow us to expand the role and plan for growth.
Staffing Life Groups: Eric Langmaack will begin working up to 15 hours a week to help reach our goal to have 100% of our church community in a life group of some kind.
Budget and Giving: Ron Ahmann demonstrated that overall giving is up; giving per person is up, and; attendance is up but the number of givers is down. To realize our goals for the next year, we need each current giver/family and 12 new givers to increase their weekly contributions by $9-10.
Ken Harpell, our finance team leader, walked through each category of the budget.
We've had a lot more support from the Evangelical Covenant Church (ECC) than you may have known. The ECC provides training and guidance. We have about a year of funding left but we have 3 years of coaching left.
In 2013, we'll go through the process to transition from being a fellowship to an ECC member church.
Food on the First
This Sunday is our Food on the First collection day for May. Peanut butter, boxed dinners, canned meat, and oatmeal are always needed. When shopping for items, consider what kids can carry home in their backpacks. If you're not sure what to buy, gift cards in any amount to Cub, Rainbow, Wal-Mart or Target will be greatly appreciated since they help families purchase meat and fresh produce. If you wish to donate cash, we will do the shopping for you. Thank you for keeping this ministry in mind while doing your own shopping this week.
Ministry Center Progress
At Restoration's ministry center, the electrical and mechanical work is finishing up this week and drywall will likely go up next week. Contact Jon Boyum at 612-237-3762 or JonBoyum@restorationcov.org if you are interested in helping with any part of the remodel. Contact Carrie at CarrieBoyum@restorationcov.org if you are interested in donating to the project. The plan for the ministry center is to have offices and gathering spaces for weekly ministry opportunities. Hayes Community and Senior Center will continue to be our Sunday morning worship location.
Westview Community Garden
We have been invited to support Westview Elementary School's community garden which provides fresh food to local families in need. This is a great opportunity to connect with our city. Join us on any of these dates: preparing soil 10am-noon on May 12 (new date); planting 10am-noon on May 19 and 4-5:30pm on May 21. There will also be opportunities for watering, weeding and harvesting during the summer. Contact: Jessica, JessicaSanborn@restorationcov.org.
Needed now: People with strong arms and backs to pound in fence posts around the smaller, older garden sometime in the next two weeks. Contact: Eileen, 952-431-8383
Life Groups
Contact Eric and let him know you want to find a life group: EricLangmaack@restorationcov.org. Read more about life groups and see a list of current options at our life groups web page.
Saturday Morning Men's Group
We will resume meeting this Saturday, May 5, at Big Apple Bagels in Apple Valley. We will begin Scot McKnight's book The Blue Parakeet: Rethinking How You Read the Bible. If you're looking to figure out how you can better read and understand the Bible, this is a great group to join. Contact: Chad, ChadWhite@restorationcov.org
Student Groups
The Middle School Student Group is going bowling Tuesday, May 22.
Why on a Tuesday, you ask? Well, even Tuesdays need to be fun sometimes!
The High School Student Group (grades 9-12) meets Sundays at 12:30pm at the Wendy's on CR 42 & Cedar Avenue in Apple Valley. Contact: Louie Washleski, 952-261-7523
Sharing the News
Upcoming events from organizations and institutions in and around our community.
—
Bethel Seminary
Ministry Partner Information Session
May 15th at 7–8:15pm
Click here to view the information sheet
—
International Justice Mission
Evening of Celebration
May 15 at 6:30–9pm
Celebrate justice by hearing stories from the field, watching the short film At the End of Slavery, enjoying live music, praying and funding more rescues. This event is free, but you must register in advance.
www.ijm.org/benefit-dinners/twin-cities
—
Amnion Crisis Pregnancy Center
Two-Mile Walk for Life
June 9 at 8:30am
www.amnioncpc.org/friends
Upcoming Events
Vacation Bible School with Faith Covenant Church · June 18-22
Restoration Day Camp · August 6-9, 9am-1pm
Outdoor Worship Service, Believer Baptism and Picnic · August 26

View past News & Notes by clicking HERE.